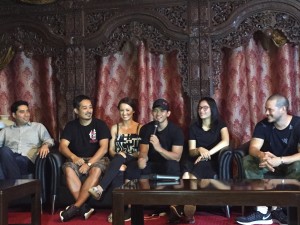 On Friday, 30 October 2015, the studio was having a special blessing ceremony (Selamatan) event to kick start the shooting process of the latest film it has the honour to host the shooting process in.
The film in question is titled Headshot, a co-production between Infinite Studios and Screenplay under the banner of Screenplay Infinite Films. With a star-studded cast members that need no introduction in the Indonesian and even global film scenes such as Iko Uwais, Julie Estelle, Chelsea Islan, and Zack Lee, the film is directed by the acclaimed Mo Brothers (Kimo Stamboel and Timo Tjahjanto).
The selamatan ceremony was also visited by a number of media outlets such as Batam Pos, Sindo, Kompas, Bintang, and Barelang TV just to name a few.
The selamatan ceremony was running just like it is traditionally, with the cutting of the Tumpeng (cone shaped yellow rice dish arranged like a mountain) preceded by a speech by Mr. Mike Wiluan, one of the producers for the movie as well as the CEO of Infinite Studios and also a prayer session led by an Imam.
After the selamatan ceremony, the producers, directors and the cast of the film gathered in the Infinite Studios Theatre Room for the Press Conference with the attending members of the press.
The press were asking various questions pertaining to the movie, ranging from the trials and tribulations of the production process, to how the cast feel about being involved in the production of the film.
The selamatan event went on successfully without any severe impediments, and it was certainly hoped that it indeed marked an auspicious start for the shooting of the Headshot film.