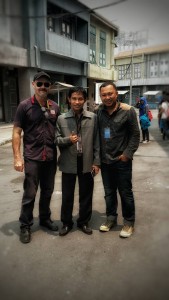 In the morning of Thursday, 22 October 2015, 20 students from the Informatics and Electronics courses hailing from the neighbouring Bintan Island visited Infinite Studios for sightseeing purposes and at the same time catching a glimpse of what animation and liveshoot productions entail.
The tour started from the animation section of the studio. When going around the animation work areas, the students displayed keen curiosity as they intently observed the animators working their magic on the computer screens.
The students were shown the show reels for both animation and liveshoot works that have been produced in the studio, as well as a brief video to give them an idea on the animation creation processes from the beginning to the final product. They expressed genuine interest in animation and enthusiastic queries were pouring out of them about animation production and even about the possibilities of undergoing internship stints in the studio.
Moving on to the liveshoot areas of the studio, the students also failed to hide their overwhelming awe and ecstasy upon seeing the actual sets, props and posters of the feature films and series that they have watched in the past, and expressed their pleasant surprise that those films and series are actually produced right in their home province of Riau Islands.
Just like in the animation area, the students expressed genuine interest in directly participating in film production, ranging from contributing movie scripts that they have written, to participate directly in the exciting Art and Construction departments.
Such enthusiasm and eagerness only show so much potential and promise that the only way the Riau Islands and Indonesian creative industry could go is forward.